Studes Missing In Action.
Let's try to track down some Studes that were known to us years ago.
Maybe they are around in someone's shed, or maybe they have gone to God.
Please let us know the whereabouts of these vehicles, if you know.
If you can, please provide serial numbers so that we can be sure.
---
196? Lark 'Ute'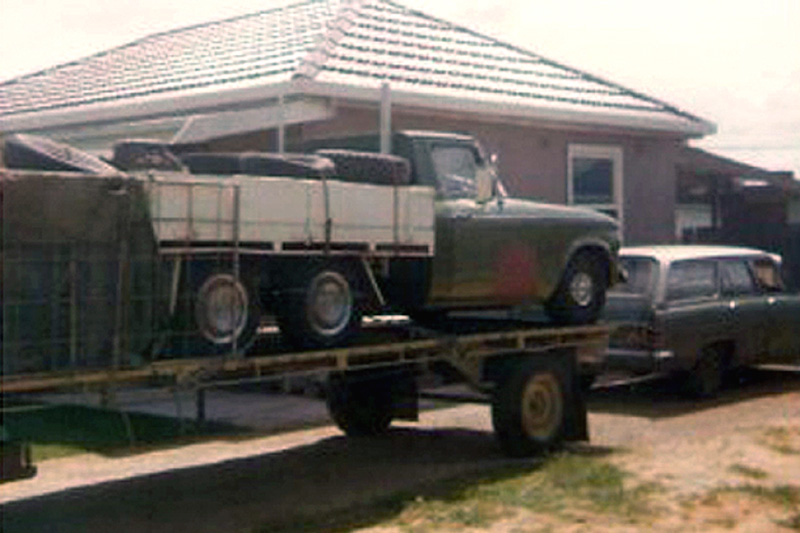 At one time, known to have been in S.A.
Spotted on Shannon's Club website.
Thanks Arthur.
Where is it now??
---
1957 Champion 'Ute'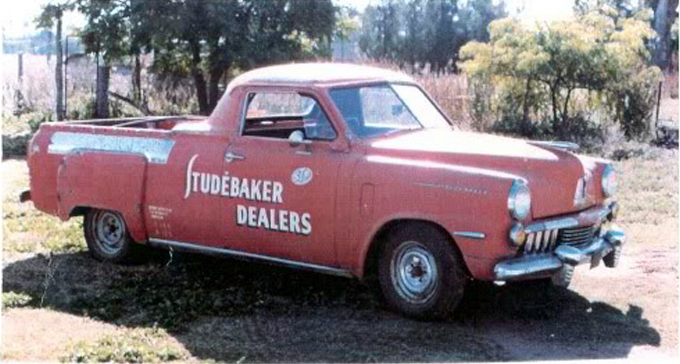 Spotted by Arthur G. on Richard Quinn's Photobucket.
Thanks Arthur.
See a bit more on this vehicle >here<.
Where is it now??
---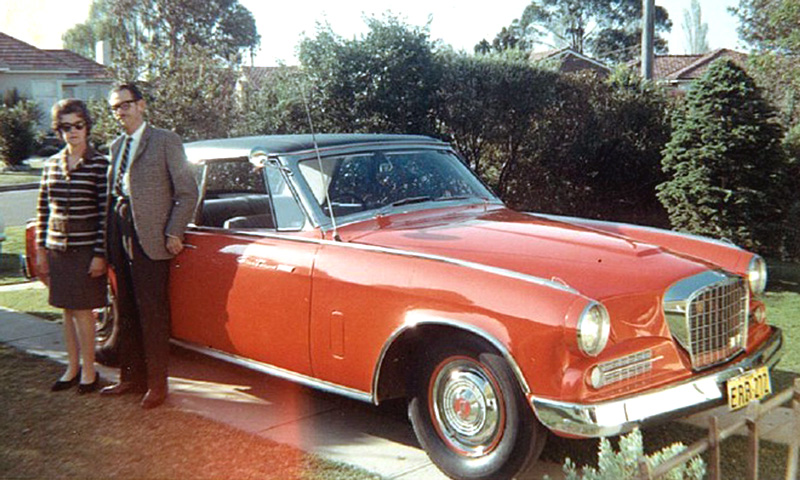 Alex and Jean Marks, 1970.
Last known whereabouts -Les Vagg Holden (Sydney), March 1972.
See a bit more on this vehicle >here<.
Where is it now??
---
1963 Lark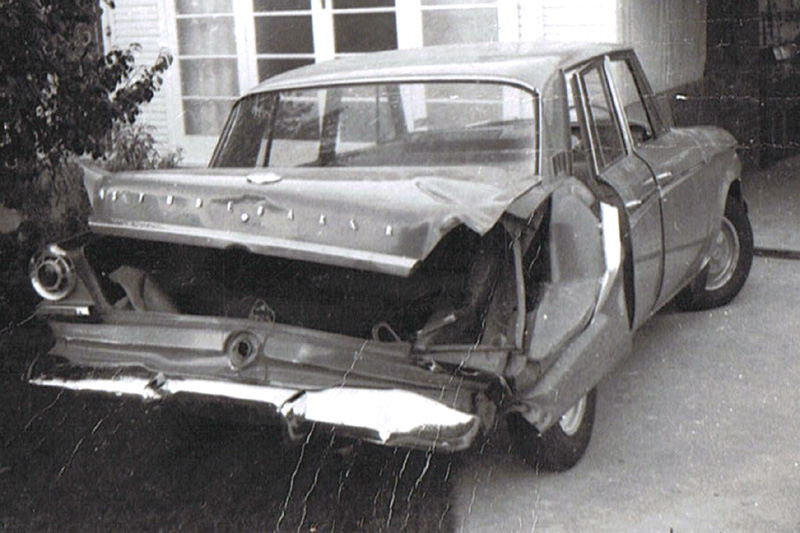 This green Lark was a write off which Dale repaired & sold with low mileage.
Last seen around 1976.
Where is it now??
---
1962 GT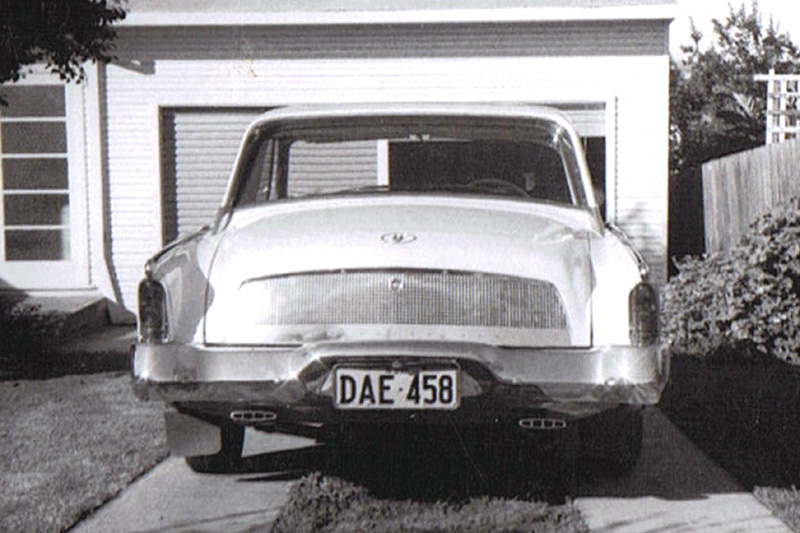 Dale's first GT. Sold to buy 63 Lark.
Last seen prior to 1976.
Where is it now??
---
1961 Lark Sedan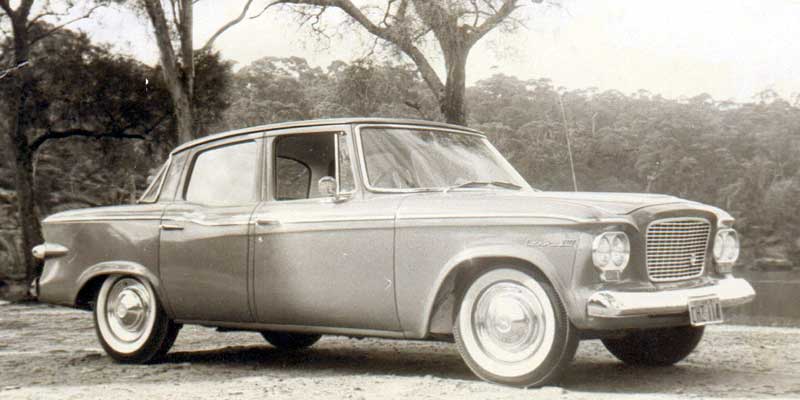 We have confirmation that this vehicle was a race prepared car by Bert Needham and was raced
at least once in the 1962 Bathurst 6 hour event, winning it's class, and 3rd outright.
Click >here< for Modern Motor magazine article.
It was sold as used vehicle in 1963, from Needham's an Wentworthville.
Some more photo's and a bit more info can be found >here<
Last seen 1964 when traded in on new Hillman Imp!!!
Where is it now?
---
1916 Studebaker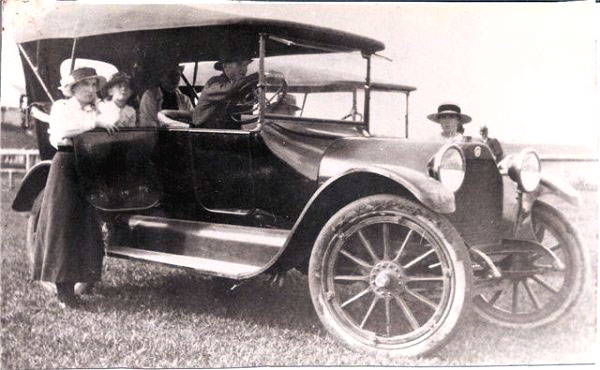 Caption written on rear of photo'
"1916 Bangalow Show"
Driver is Wal Noble (Yvonne F. Great Uncle) of Bangalow.
Has anyone got any more information on this one?
---
1954 Studebaker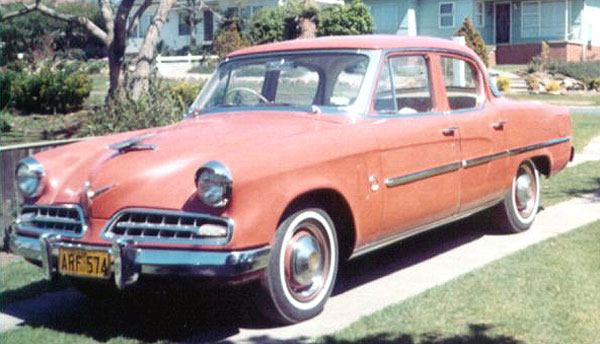 Previously owned by Dale F in 1975, Tim L who converted to V8, then it vanished.
Where is it now?
---
1965 Studebaker Cruiser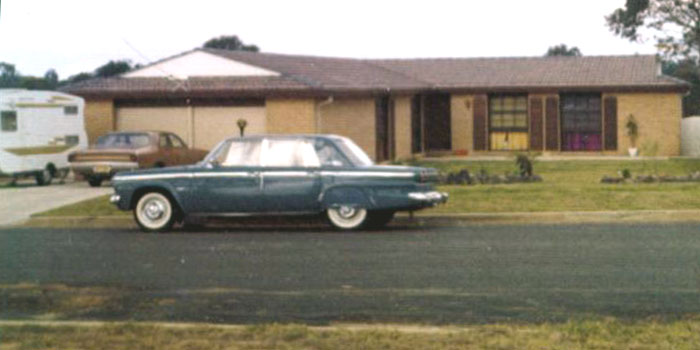 Previously owned by Yvonne F, sold late in 70's to Perry P, then on to Steve W, Dave G, Anthony A.
Was bored to 327, had 12 slotters, then painted candy apple red, and 350 Chev with
white interior, sold again and has vanished.
Where is it now?
---
1963 Wagonaire
Previously purchased by Dale F. in around 1977 on behalf of Dale Jr.
Dale owned the vehicle for 2 years before selling it to Bert Needham Snr.
Bert used the tailgate for his Wagonaire, and disposed of the rest.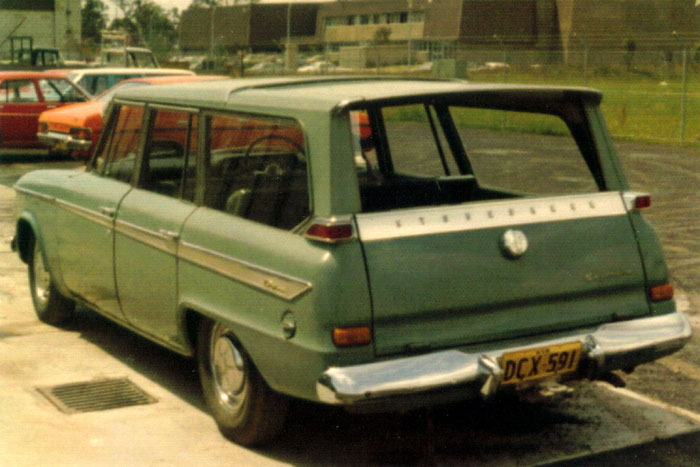 Never seen again.
Maybe it survived?? Does anyone know if it did, and where it is?
---
1963 2 Door Lark 1963 Lark Cruiser 1963 Hawk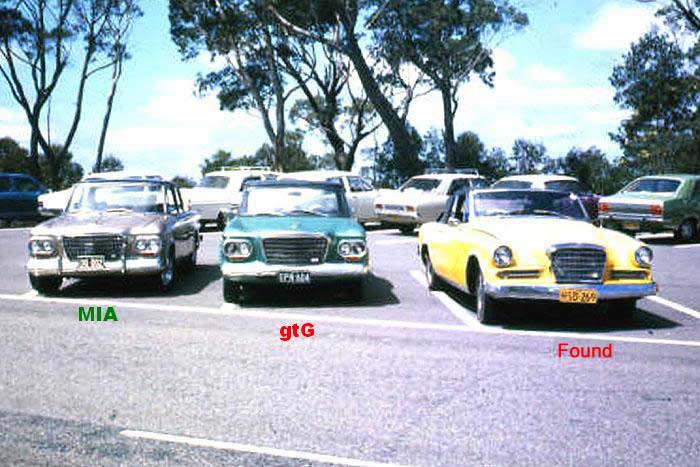 This photo' taken on an outing with the Buick Club to the Zig-Zag Railway c1977.

The gold 1963 2 Door Lark, fully imported, not ex-police. Sold to Victoria in the 1980's.
Never seen again.

The green 1963 Lark Cruiser, very rusty in the body, wrecked (gtG) in the early 1980's, but the perfect rust-free doors are still in my (Phil H) shed and are not for sale.

The yellow 1963 Hawk, is a convertible. Sold to the Newcastle area in the early 1980s.
Has been found, alive and well, living in the Southern Highlands of NSW and currently owned by Collin G.
---
Was Lost, but now Found
1960 Studebaker Hardtop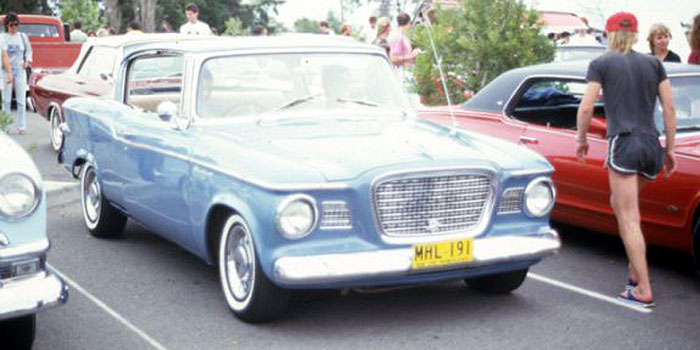 Previously owned by Dale F and sold in early 70's, and many others.
Lyle L converted to 350 Chev, and it was re-painted in early 80's.
Currently owned by our member Geoff C.
---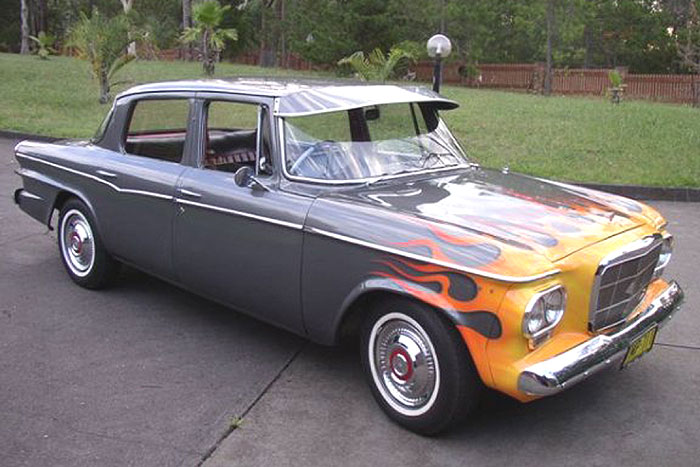 Previously owned by Brian F, Michael K around 2005, sold to Nick I about 2007,
then sold to Craig L in Victoria Dec 2010.
Thanks to Darryn F for tracking it down and letting us know about it.
Edit 1: Vehicle spotted 6th Jan 2012 on Ryde Rd, West Pymble with sign writing on the driver's door.
Can anyone add further info?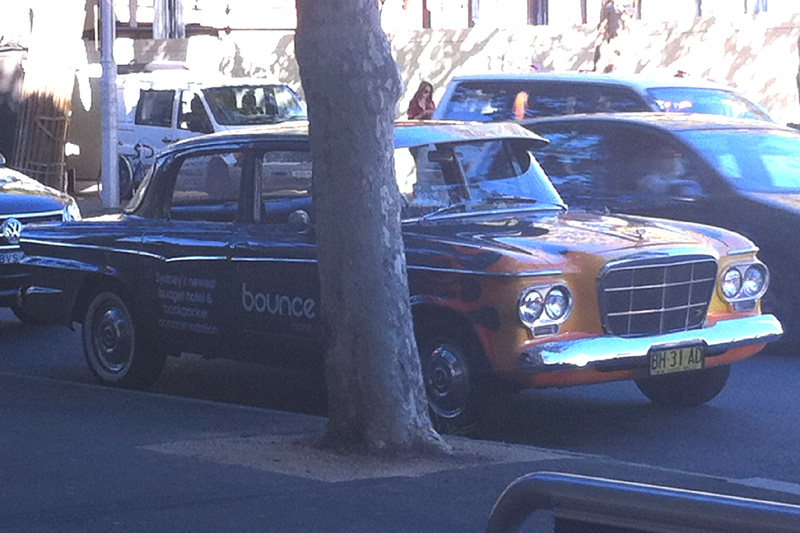 Edit 2: This one has been spotted again (March 2012) by Aldo, who is a past member of our club.
It has sign writing on all four doors, advertising the Bounce Hotel, Surry Hills,
20 Chalmers Street, Sydney NSW.
Thanks Aldo.
Sadly, these vehicles are known to have been wrecked, with their organs
and other useful parts being used by some other deserving Studebaker.
1963 Lark Cruiser

Very rusty in the body, wrecked in the early 1980s.

1959 Lark Sedan

Was owned by Keith Scurrah from at least 1981 until his passing in 2007?

Purchased by Brian F. and used for parts as the body was rusted beyond repair.

Serial No. 59V12297.

1962 Lark Sedan

Previously owned by Ted Ardini (NSW) from '62 to '88, then Darryn F until 2011.

The vehicle was parted out in 2011.
This page last updated 04/03/2015.